Object found in Choc Bar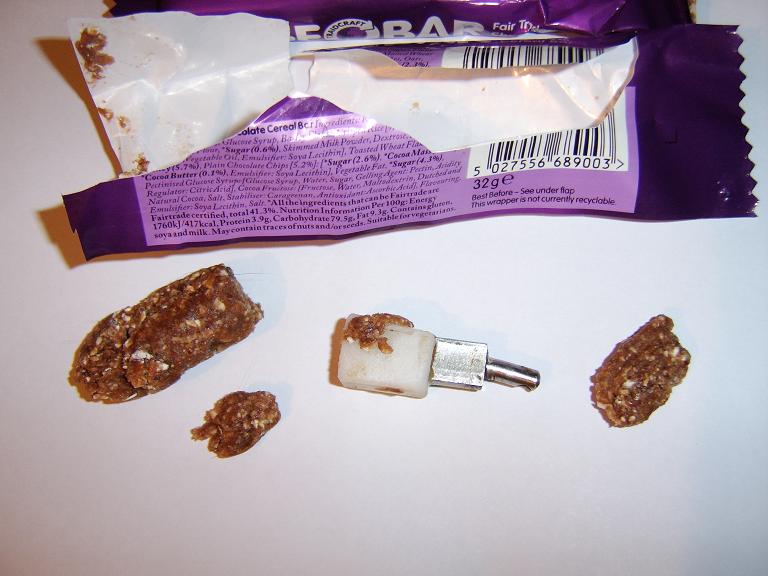 'The foreign object has been identified by the factory as being a lug used on the packaging machines'
Dear Mr Preston,
Regulation EC178/2002 General Food Law
General Food Regulations 2004
Metal Object Found Within Traidcraft Geobar Chocolate
I refer to the above complaint and can confirm that an investigation has now been undertaken. The product in question was manufactured by Northumbrian Fine Foods, Dukesway, Team Valley, Gateshead, Tyne & Wear, NE11 0QP. Consequently, your complaint was investigated by an Environmental Health Officer employed by Gateshead Council.
I have received a copy of her report into the incident and can confirm her findings as follows:
The foreign object has been identified by the factory as being a lug used on the packaging machines.
The packaging machines are located in an area of the factory separate from the product manufacturing areas. Therefore, the only possible explanation for the object to have been contained within the wrapper is that the lug became caught in the packaging during a production fault on the wrapping machine and was extracted from the line within a tangle of packaging without being identified. Product removed from the line in this way was placed into second grade stock. Second grade stock is material that does not meet initial quality expectations due to issues such as packaging problems and would have been sold through an appropriate clearance vendor as per an agreement that was in place at the time.
On examination of your product sample it was deemed as being a second grade product due to the nature of the seal on the bar. This was further confirmed by the fact that ' ****** (Shop in Malton) ' was identified as an outlet served by their second grade vendor.
I can confirm that, due to concerns raised by Traidcraft, second grade Geobars are no longer sold but sent to waste.
Until the company received your complaint they did not consider a missing lug to pose a hazard to the product as they presumed a detached lug would simply fall to the floor. The company has now re-assessed their systems in order to prevent any future recurrence. Their new control measures include the following:
· Additional metal detection of wrapped products prior to despatch.
· Lugs on machines will now no longer be replaced until the missing lug has been accounted for.
· Further staff training has been implemented to ensure key staff are aware of the issues involved
Additionally, the line that was used to pack your product is no longer used for production but has been retained as a capacity overflow line. However, a full engineering review of the line has taken place to ensure that any possible perceived risks are 'engineered out'.
In order to give you an idea of the scale of production of the product at Northumbrian Fine Foods; they have been producing Geobars since 2005 and, at the time of your complaint, have manufactured approximately 6130 tonnes of product which is equivalent to over 175 million bars. Within this time no other complaints of this nature were received.
I can confirm that the company operates a comprehensive food safety management system based on HACCP (Hazard Analysis and Critical Control Points) principles. This system documents food safety controls including the following:
· Metal detection.
· Quality of supplied product received by the factory.
· Checks on production lines to be undertaken prior to starting work.
· Staff training.
· Manufacturing processes.
· Hygiene and cleaning/housekeeping.
The factory also holds Grade A conformity to BRC Global Standard for Food Safety.
In conclusion, the factory confirmed that they reacted immediately to your complaint and ensured their processes and procedures were updated to eliminate any future risk.
I do not intend to take any further action on this matter. However, thank you for bringing the above to my attention as it has caused the manufacturer to examine their procedures and help prevent a similar event happening again.
Yours sincerely,
(Council Officer)
Environmental Health Officer
Ryedale District Council
Environmental Health Services
P.O. Box 67
Ryedale House
Old Malton Road
Malton
YO17 7ZG
Tel: 01653 600666
Fax: 01653 600764